About Austin Krueger
Austin works as a cost analyst for TDS Telecom in the Government and Regulatory Affairs team. He has a marketing degree from UW-Whitewater and has worked in various departments including marketing, sales and network services since joining TDS in 2004. He is a huge sports fan – if he's not at work, odds are you can find him at Miller Park, Lambeau Field, Camp Randall or the Kohl Center watching the game. In his spare time, he's chairman of a local non-profit, avid music fan, rec sports MVP and an early adopter when it comes to most new technologies.
Author Archive | Austin Krueger
Plain and simple, this album is awesome. If you haven't heard it, listen to it. If you've heard it a million times, make it a million and one. Here we are now, entertain us! Happy Tuesday!
This album sits at No. 4 on Rolling Stone's 500 greatest of all time, which is something to sit back and really think about. Out of every album ever created—in which there are billions—Stevie Wonder has the FOURTH best ever. Pick it up, dust it off, and take a listen ASAP.
After hauling in Record of the Year, Song of the Year, Best R&B Performance and Best R&B Song, the world is about to get more familiar with Silk Sonic—and you might want to, too.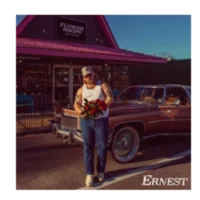 Ernest is pretty new on the music seen so here's your shot to get in on the ground floor. His album, Flower Shops, just dropped two weeks ago and is already rising on the charts.
Raise your hand if you enjoy music. Anyone? Anyone? Bueller? Today's featured act is one of those peppy, upbeat bands that you can't help but succumb to. They'll get your toes tapping and make your two-hour drive feel like ten minutes.
L.A. Woman was The Doors' sixth studio album and also became their second-highest selling effort, behind their debut. The title track and "Riders on the Storm" continue to be staples on rock radio even in 2022 so it's well worth a listen today.
Whether you watched the recent documentary about Janet Jackson on A&E and Lifetime or not, this album is worth a listen. It received top-notch reviews and is likely a key reason she was inducted into the Rock and Roll Hall of Fame a few years back.
Oliver Tree's sophomore album, Cowboy Tears, hit shelves just 11 days ago. The lead single "Cowboy's Don't Cry" was leaked early, with a video starring actress Bella Thorne. Since then, two more singles have been released and the album appears to be gaining some real traction. Take a listen!
Today's featured album had an astonishing six commercial released singles—not too shabby for a heavy metal group. Their "Far From Home" has been used in several TV shows and movies, most notably Criminal Minds on CBS and they have some great covers from other artists, as well.
Moby has an uncanny way of capturing a mood and a tone, no matter what it is. This album takes you from sad to introspective to pop—and back again—several times. It's no surprise his work has been featured in films and that critics appreciate his work. Take a listen and see if you do too!

TDS Connect Blog
Learn more about how TDS can keep you connected in the home with Internet, TV, TDS Fiber, DVR and phone services and solutions.
Connect:
Stay connected with TDS Home for the latest news.