Tag Archives | TDS charity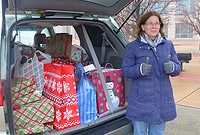 It's National Volunteer Week! Volunteering is a great way to get involved with an organization whose mission is important to you. In fact, TDS employees are encouraged to volunteer in our communities—we even give each employee 16 hours of paid time off every year to get involved and give back. Find out more about our efforts and tell us how you give back.
TDS Connect Blog
Learn more about how TDS can keep you connected in the home with Internet, TV, TDS Fiber, DVR and phone services and solutions.
Connect:
Stay connected with TDS Home for the latest news.