TDS and its employees are out and about and participating in community events all over the country!
Craig Field of Dreams
TDS recently made a donation to the Field of Dreams, a youth athletic complex in Virginia.
We were pleased to help contribute to this worthy community project and received an unexpected thank you.
Dear TDS Team:
It is with great gratitude the children of Craig County thank you for the donation you made to our Craig Field of Dreams. We continue to work on developing the complex so that our children can enhance their skills, team and character building, physical fitness and community pride. We are a TDS community!
In appreciation and admiration,
Craig County Recreation and Conservation Association Members and kids
You're most welcome, Craig County and kids. We look forward to watching you play!
Employees run in the Bataan Memorial Death March
Barbara M., manager of Field Marketing, and Lupe V., administrator of Talent Development, ran a marathon and half marathon, respectively, through miles and miles of desert during the 26th Annual Bataan Memorial Death March. The event honors the brave soldiers who were responsible for the defense of the islands of Luzon, Corregidor and the harbor defense forts of the Philippines during World War II.
Military and civilians alike come from all over the world to honor a particular veteran or prisoners of war. Barbara, a third time participant, initially signed up due to encouragement from Lupe. "After my first experience, I realized how memorable this event really is. The opening ceremony is amazing, plus we have the honor of shaking hands with survivors. You feel the patriotism by everyone and gain an understanding of what our heroes had to endure during an extremely difficult time."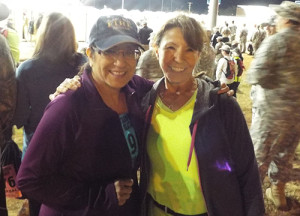 The conditions for the event are harsh, just like the soldiers encountered during the aftermath of the battle in 1942. Thousands marched for days in the scorching heat through the Philippine jungles. Today, participants from all over the world run on dirt and sand trails, and circle a small, steep mountain known as Mineral Hill.
"I finally got the courage to do it myself after pushing Barbara to do it the last few years," said Lupe. "I ran most of the way, but sand, ruts and uphill climbs force you to walk some of it. It's still nothing compared to what the survivors endured. It's a very patriotic run and I will do it again next year."
Raising money for Open Arms of Minnesota

Sue C., a manager of Field Marketing in Minnesota, and her husband will be riding more than 40 miles in the RE/MAX Results Breast Cancer Ride to benefit Open Arms. They're biking in honor of those in their lives who are fighting cancer or who battled and lost their fight.
Open Arms, non-profit organization prepares and delivers free, nutritious meals to those affected with many diseases, including those living with breast cancer, their care givers and dependent children. This is Sue's second year participating.