About Guest Blogger
Guest blogger for TDS Home.
Author Archive | Guest Blogger
Shameless scammers want to help themselves to your money. And they're competing with legitimate charities, taking advantage of your generosity. So, as you open your heart and wallet to help people and causes, be sure to consider these FTC tips for safe giving.
The start of a new school year is a good time to double-check your online set-up at home, since lots of people might depend on it. The FTC offers their tips for what you need to consider.
No matter what kind of disaster you've been impacted by, the aftermath is never easy. But when scammers target people just trying to recover, it can be even worse. The FTC offers their tips to help you avoid common post-disaster scams.
Attention small business owners! The Cybersecurity and Infrastructure Security Agency is currently tracking and monitoring a situation involving an unknown malicious cyber actor who is imitating the COVID-19 relief webpage of the Small Business Administration through phishing emails.
Because of business shutdowns and social distancing, people have been spending cash at stores or restaurants at record low levels. Now, some businesses are running low on coins and not offering change. Here are some tips to avoid losing money next time you go out shopping.
Contact tracers, the folks who work for state health departments to try to track anyone who may have been exposed to COVID-19, are an important part of our road to recovery. But some scammers are pretending to be contact tracers so they can profit off of the current confusion. Find out what you need to watch out for.
Many of us are paying close attention to the guidance from federal, state, and local governments during this COVID-19 health emergency. Unfortunately, scammers are also paying attention. Some are even pretending to be affiliated with the government—just to scam you out of money. The FTC gives you three ways you can help protect yourself and others from these scammers.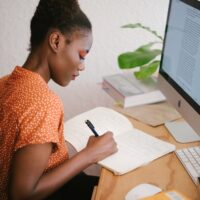 College students may no longer be on campuses right now, but that doesn't mean they've been able to move away from scams. Get the scoop on the latest COVID-19 scam that's targeting the younger generation.
Finding a pet may be a little different during the pandemic. While many shelters, rescue leagues and breeders are closed for in-person visits, many are still posting photos and videos of available animals, and hosting online meet-and-greets. But like any major decision, it pays to do your homework—especially because scammers are trying to take advantage of the situation.
Having your work space be at home may only be increasing the amount of time you're spending in front of a screen—after all, it's harder to get away and, with COVID-19, many of us are turning to recreational screen time to pass the time while social distancing. Help reduce eye strain with these nine tips.

TDS Connect Blog
Learn more about how TDS can keep you connected in the home with Internet, TV, TDS Fiber, DVR and phone services and solutions.
Connect:
Stay connected with TDS Home for the latest news.