About Guest Blogger
Guest blogger for TDS Home.
Author Archive | Guest Blogger
Once a terrible gift, dreaded to be received by everyone, the ugly holiday sweater has made a comeback. Today, ugly sweaters are a fun tradition that people are willing to pay for.
Holiday cheer is in the air! People are busy decorating their homes, baking cookies, picking out the perfect Christmas tree, and, of course, shopping for gifts. In my experience, one of the most difficult family members to shop for is my dog.
We always enjoy highlighting employees doing awesome things. Dorell, who has only been with us since April, is our newest Volunteer of the Quarter. He has already donated time to eleven different organizations (and counting!). Find out where he's chipping in and lending a hand.
The joy of giving can sometimes be hindered by not knowing what to give and the stress of trying to find the perfect gift for every person on your list. If you are unsure of what to gift the person who has everything, or have a tech wizard in your family that you want to impress, don't freak out. We have a list of the top 7 tech holiday gifts this season.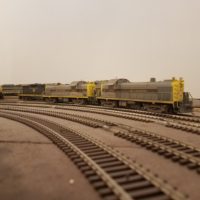 For most people, trains are simply modes of transportation. For Phil Berry, however, trains and model trains are a source of great inspiration and fun—and he has a 1,000 square foot set-up in his basement to prove it.
Tis the season to be jolly, but when it comes to holiday parties for your work, it's important to keep proper etiquette in mind. Here are five tips to help you navigate these treacherous waters.
On the outside, traveling for vacation or work can seem glamourous and exciting—and it can be. Travel can also be exhausting and throw you off your normal healthy routines. There is an easy way to get back in your normal groove—grab a workout.
With Thanksgiving just a few short days away, we asked our employees to share a few of their favorite recipes…
more...
TDS employee Sarah Reister is an avid animal lover. Currently, her household includes Kero the chinchilla, Snakerdoodles the ball python,…
more...
Earlier this month, one TDS employee participated in a 24-hour gaming marathon to raise money for charity. That's right. Doug Gilbertson, Network Specialist at TDS Telecom, is an avid supporter of Extra Life, a 24-hour fundraising and gaming marathon that supports Children's Miracle Network Hospitals across the country.

TDS Connect Blog
Learn more about how TDS can keep you connected in the home with Internet, TV, TDS Fiber, DVR and phone services and solutions.
Connect:
Stay connected with TDS Home for the latest news.