About Guest Blogger
Guest blogger for TDS Home.
Author Archive | Guest Blogger
Giving back is an integral part of the culture at TDS, which is why the company created its Be Good Citizens program. This program provides employees with 16 hours of paid time off every year to volunteer. Recently, one TDS employee took this program beyond serving her local community and used her Be Good Citizens hours to volunteer in another country.
Every day I speak with TDS customers from around the country who have questions about how their Internet service works. Our mission today, should you choose to join me, is to explain some common misconceptions regarding wireless technology and arm you with some of the tools you can use to combat them.
In many ways, the internet has made searching for a new job easier than ever, but it has also made the process more dangerous. Scammers troll the internet in search of easy victims they can target with job scams. Find out what red flags you should watch out for as you search for new opportunities.
How long it takes for a plastic water bottle to decompose? Believe it or not, it takes 450 years or more. In 2017, the average American used 167 plastic water bottles, but only recycled 38 of them. Since plastic takes hundreds of years to decompose, these bottles and other forms of plastic waste find their way into oceans and landfills across the globe, endangering the lives of humans and wildlife alike.
TDS TV subscribers in the Milwaukee area: you're about to get more bang for your buck! If you live in Burlington, Elk Horn, Johnson Creek, New Munster, Waterford, Watertown, Wind Lake, or Wheatland, you'll find a new channel in your line-up starting on April 10th—WIWN, Cozi TV.
Airbnb has made it possible for travelers to live like a local—literally renting out residents' apartments or homes. While the Airbnb site itself is safe and reliable, scammers may try to lead you off that path.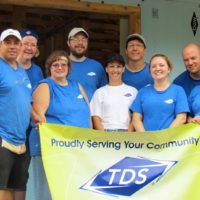 Congratulations to Raul Carozza of TDS Telecom for his selection as Volunteer of the Quarter! Volunteering is a labor of love for Raul. Since 2012, he and his wife have been providing monthly community breakfasts to homeless and low-income families in the Madison, Wisconsin area.
The theme of this year's International Women's Day campaign, "Press for Progress," focuses on striving for gender parity in education and the workplace. We're celebrating this push for diversity by showing off four women in different areas of tech at TDS who are furthering the conversation about gender parity in STEM.
It's not too late to celebrate Valentine's Day and give the most important gift ever—the gift of a healthy heart. Cardiovascular disease is the leading cause of death in men and women, which is why February has been named American Heart Month. Check out our infographic with info and tips for staying healthy.
Chinese New Year begins today, February 16 and is celebrated for 15 days until its conclusion on March 2. We say goodbye to the Year of the Rooster and welcome The Year of the Dog. A few of our employees share their family holiday traditions and we all wish you fortune in the new year!

TDS Connect Blog
Learn more about how TDS can keep you connected in the home with Internet, TV, TDS Fiber, DVR and phone services and solutions.
Connect:
Stay connected with TDS Home for the latest news.