About Missy Kellor
Missy works on the Corporate Communications team and reports stories to TDS employees and customers. This is right up her alley because she's an extrovert and also a big fan of research (really, she'll look up just about anything that strikes her interest). Missy is a native of Madison, Wis. with an undergraduate in Anthropology and a master's degree in Life Sciences Journalism from the University of Wisconsin-Madison. Her interest in the Internet as a mass media shaped her work towards a PhD in Journalism and Mass Communications. She's also worked as an editorial assistant, copywriter, and production artist. In her off hours, Missy is a crafter, Pinterest addict, reader, wife, and mom of two kids. You can find Missy on
G+
and on
Twitter
.
Author Archive | Missy Kellor
The gifts of TDS TV on Demand keep giving all month long with eagerly awaited movies arriving straight to your living room. From period flicks and heartwarming family films, to star-filled mega hits and horror sequels, there's something for everyone to enjoy. Cozy up and get watching!
As you celebrate the holidays, you have an opportunity to give to those you love and help the planet. A group of TDS employees dedicated to helping create a Greener world has gathered oodles of fantastic ideas to make it easy. From stocking stuffers and gift ideas, to gift wrapping and bows, get the eco-friendly holiday hookup with this creative 16-item list.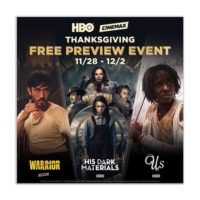 Great Black Friday deals may be coming but nothing is better than FREE—and you get FIVE days of FREE HBO and CINEMAX on TDS TV starting on Thanksgiving! Tune in starting at 6 a.m., November 28 and enjoy all the great shows and movies until 6 a.m. Tuesday, December 3. There are lots, and lots, and lots of great things to watch, from original series to awesome movies. Here's what to watch for...
Forget snow storms—the holidays present the perfect conditions for a storm of scams. Think about it: we're all busy, distracted, and doing nearly every activity frequently targeted by cyber scammers. In just a handful of weeks we're reading oodles of emails, planning travel, shopping online, giving to charity, and receiving lots of packages. Just like you prepare for real-life storms, you need to be ready for this flurry of potential scam activity.
Unfortunately for all of us, our mental image of the typical phishing scammer is not even close to reality. You probably think of a person sitting in dark room in front of multiple glowing computer screens, furiously writing code to craft their attack. According to a new security report from Akamai, this is picture is pretty much totally wrong.
There's a new potential security threat cloaked in an innocent-looking package: the charging cable. The cord that came with your device isn't the problem. After-market cables, or the one left on the table at Starbucks, or that one you borrow from that nice stranger? Stop right there! Get the scoop on what to watch for so you can stay safe.
Daylight savings is over, but that's okay—it just gives you more time to curl up and watch the great movies coming right to your living room. TDS TV On Demand has a great range of offerings this month, including movies perfect for watching as a family.
It may be Halloween, but today you can skip the tricks and enjoy a treat. No, it's not candy, it's our popular Hallmark Christmas Bingo! It's back and better than ever (and, added bonus: has fewer calories than your favorite sweet and this will last the entire holiday season).
Arguably, charity scams are one of the ugliest kinds of fraud. By taking advantage of the kindness of others, scammers are stealing money intended to help those most in need—and people are very kind. With hundreds of billions of dollars donated every year, the less scrupulous try to benefit. During Charity Fraud Awareness Week, review six tips for making sure your money is having the most impact.
This year there are a whopping 40 new movies to watch across both channels (24 on Hallmark, 16 on Movies & Mysteries). With so many new movies, the challenge may be keeping up—but don't worry, we have four ways to do just that, including a calendar that has all the movies listed in one place (and color-coded, to boot!).

TDS Connect Blog
Learn more about how TDS can keep you connected in the home with Internet, TV, TDS Fiber, DVR and phone services and solutions.
Connect:
Stay connected with TDS Home for the latest news.