About Missy Kellor
Missy works on the Corporate Communications team and reports stories to TDS employees and customers. This is right up her alley because she's an extrovert and also a big fan of research (really, she'll look up just about anything that strikes her interest). Missy is a native of Madison, Wis. with an undergraduate in Anthropology and a master's degree in Life Sciences Journalism from the University of Wisconsin-Madison. Her interest in the Internet as a mass media shaped her work towards a PhD in Journalism and Mass Communications. She's also worked as an editorial assistant, copywriter, and production artist. In her off hours, Missy is a crafter, Pinterest addict, reader, wife, and mom of two kids. You can find Missy on
G+
and on
Twitter
.
Author Archive | Missy Kellor
The new year is the perfect time to start fresh with some technology updates. And don't worry about it costing lots of money—in most cases you don't need to spend a dime to gain features and, more importantly, to increase your online safety.
It's cold outside so you have the perfect excuse to stay indoors and watch some hot movies on TDS TV…
more...
One of the ways, TDS and its parent company has celebrated its 50th birthday is through its 50 for 50 Golden Year of Giving initiative. As our birthday year comes to a close, take a peek at four more winning charities chosen by TDS employees to receive donations (click here and here to read about the previous five winners!).
TDS is actively negotiating with Fox News and Fox Business to secure agreements to allow the continued carriage of these channels on the TDS TV lineup. Get the scoop.
Since mid-November, TDS employees have been voting for their favorites as part of "Holiday Movie Bracket." We gathered 16 different, feature-length holiday films representing a variety of genres, eras, and casts. Find out which movie rose the top!
Multiple giving holidays are fast approaching but don't worry about gift ideas—TDS employees have your back. The members of the TDS Employee Resource Groups are offering up a wide range of fantastic (and quite creative) suggestions for kids, tweens, teens, and adults alike!
The gifts of TDS TV on Demand keep giving all month long with eagerly awaited movies arriving straight to your living room. From period flicks and heartwarming family films, to star-filled mega hits and horror sequels, there's something for everyone to enjoy. Cozy up and get watching!
As you celebrate the holidays, you have an opportunity to give to those you love and help the planet. A group of TDS employees dedicated to helping create a Greener world has gathered oodles of fantastic ideas to make it easy. From stocking stuffers and gift ideas, to gift wrapping and bows, get the eco-friendly holiday hookup with this creative 16-item list.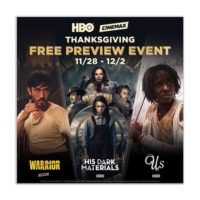 Great Black Friday deals may be coming but nothing is better than FREE—and you get FIVE days of FREE HBO and CINEMAX on TDS TV starting on Thanksgiving! Tune in starting at 6 a.m., November 28 and enjoy all the great shows and movies until 6 a.m. Tuesday, December 3. There are lots, and lots, and lots of great things to watch, from original series to awesome movies. Here's what to watch for...
Forget snow storms—the holidays present the perfect conditions for a storm of scams. Think about it: we're all busy, distracted, and doing nearly every activity frequently targeted by cyber scammers. In just a handful of weeks we're reading oodles of emails, planning travel, shopping online, giving to charity, and receiving lots of packages. Just like you prepare for real-life storms, you need to be ready for this flurry of potential scam activity.

TDS Connect Blog
Learn more about how TDS can keep you connected in the home with Internet, TV, TDS Fiber, DVR and phone services and solutions.
Connect:
Stay connected with TDS Home for the latest news.