Archive | TDS TV
RSS feed for this section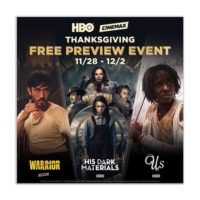 Great Black Friday deals may be coming but nothing is better than FREE—and you get FIVE days of FREE HBO and CINEMAX on TDS TV starting on Thanksgiving! Tune in starting at 6 a.m., November 28 and enjoy all the great shows and movies until 6 a.m. Tuesday, December 3. There are lots, and lots, and lots of great things to watch, from original series to awesome movies. Here's what to watch for...

TDS Connect Blog
Learn more about how TDS can keep you connected in the home with Internet, TV, TDS Fiber, DVR and phone services and solutions.
Connect:
Stay connected with TDS Home for the latest news.