There's still plenty of time to scream along to some fantastic Halloween movies to get you in the spooky season mood. We're rounding up some great options in a variety of categories—both new releases and old favorites—and for a variety of ages.
You'll find many of these right on your TV (TDS TV and TDS TV+, of course!), but we've included some available on streaming services as well.
Kid-safe spooky movies
NEW: Muppets Haunted Mansion
Where: Disney+
When: Any time
All of your favorite Muppets plus, Will Arnett, Taraji P. Henson and more. Cute for kids but with enough smart jokes to make you chuckle, too.
The Addams Family (1991)
Where: Paramount Network
When: October 16, 17, 21, and 22
Anjelica Huston, Raul Julia, Christopher Lloyd, and Christina Ricci, directed by Barry Sonnenfeld. If you haven't seen it, you should. If you have, watch it again (and you'll soon be calling your spouse cara mia!).
Hotel Transylvania
Where to watch: TNT and Freeform
When to watch: catch the original on October 27 on TNT. Freeform is airing both sequels on October 17, 18
Spirited Away (2001)
Where: HBO Max
When: Any Time
Anime from the studio that's as popular in Japan as Disney is here, Spirited Away is a definite trip. A girl must save her parents who were turned into pigs by a bad witch with the help of a dragon (and a the bad witch's sister). It's so odd, it's kind of creepy—but it does have a happy ending.

Hocus Pocus
Where: Freeform & Disney+
When: October 14, 16, 17, 23, 24, 28, 30, and 31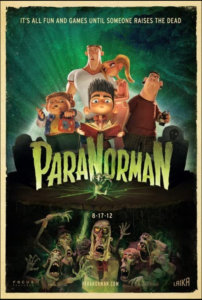 Paranorman (2012)
Where: Netflix
When: Any time
Gorgeous stop-motion animation about a boy who can see ghosts who must save his town from a centuries-old curse.
NEW: Scaredy Cats
Where: Netflix
When: Any time
From some of the people behind movies like Air Bud comes a new series about a 12-year-old girl who inherits a necklace that allows her to transform into a cat.
Harry Potter
Where: SyFy
When: October 17-18
SyFy is showing all of them in sequence! What better way to celebrate Halloween with witches and wizards?
Creepy or unusual, but aren't necessarily Halloween
Beetlejuice (1988)
Where: Paramount Network
When: October 17, 18
Director Tim Burton at his finest! It's off beat and strangely charming. If you've never watched it, now's a great time (and Catherine O'Hara as Delia? Irresistible!).
Miss Peregrine's Home for Peculiar Children
Where to watch: Freeform
When to Watch: October 30 and 31
Edward Scissorhands
Where: Hulu
When: Any time
Another Tim Burton, but this time starring a young Johnny Depp as an artificial man with scissors for hands just trying to learn how to fit into a suburban world. Visually stunning, and kind of haunting.
NEW: Cruella
Where: Disney+
When: Any time
Sure, this isn't really Halloween, but it has a touch of darkness that fits the season.
SurrealEstate
Where: SyFy OnDemand
Starring both Tim Rozen and Sarah Levy from Schitt's Creek, plus a strong cast of players, make this a fun watch. They all work for a real estate firm that specializes in…unique (read: haunted) properties.
The Shining
Where: AMC
When: October 23
A Quiet Place
Where: FXM
When: October 22
John Krasinski (of The Office) wrote, directed, and starred in this post-apocalyptic thriller. Being hunted by Aliens who can only find you if you make noise is scarier than you might expect.
Nightmare Before Christmas
Where: Freeform
When: October 24 and 30
Dark Comedy
Heathers
Where: Hulu, Amazon Prime, Sling
When: Any time
Wynonna Ryder, Christian Slater, Shannen Doherty—need we say more?
The Voices (2014)
Where: Hulu, HBO Max
When: Any time
This could be the best black comedy you've never heard of, but it gets a solid 74% on Rotten Tomatoes. It stars Ryan Reynolds as a factory worker who has to decide whether to listen to his evil pets and become a killer. Anna Kendrick also stars.
Fargo
Where: Hulu
When: Any time
Not only will you appreciate the perfect Minnesota accents, this dark comedy about an inept car salesman is simply a masterful film (it gets a 94% Tomatometer score!)
A love story
Warm Bodies
Where: Cinemax, HBO Max, Hulu
When: Check your listings for Cinemax, otherwise stream it any time
This is a horror comedy romance, if you can believe it. A zombie and a human fall in love and change the world. Stars Nicholas Hoult, Teresa Palmer, and John Malkovich.
Truly scary
IT: Chapter Two
Where to watch: TNT
When to watch: October 24
NEW: My Heart Can't Beat Unless You Tell It To
Where: Amazon (rent)
When: Any time
RottenTomatoes.com has picked this one as it's No. 1 scary movie from 2021. In it, "two mysterious siblings find themselves at odds over care for their frail and sickly younger brother."
Scream 1 &2
Where: AMC
When: October 16 and 20
A new Scream movie is coming soon so catch up on the originals!
NEW: Saint Maud
Where to watch: Amazon and Hulu
When: Any time
This appears on at least one "best of 2021 horror" lists as the top pick for the year. The official description says: Maud, a newly devout hospice nurse, becomes obsessed with saving her dying patient's soul—but sinister forces, and her own sinful past, threaten to put an end to her holy calling.
Resident Evil (like, all of them)
Where: TNT
When: October 30
Halloween (all of them)
Where: AMC
When: October 29-31
AMC is showing ALL of the Halloween movies—from the original that made Jaime Lee Curtis the scream queen, all the way through to all of the new installments. Here's a new movie in theaters, but there loads of scary reasons to watch the originals that started it all.
NEW: Day of the Dead
Where: SyFy
When: October 15 series premiere
A brand-new zombie apocalypse series! SyFy says it, "follows a group of strangers trying to survive the first 24 hours of an undead invasion in their small, conflict-filled town."
Psycho
Where: Showtime
When: October 17, 19, and 24
Last year we asked TDS associates to vote for their favorite horror movie and Psycho won! Definitely worth a watch. Hot tip: you can also see Seven, the runner up, on Showtime on October 18 and 22!
If you have TDS TV or TDS TV+ and these channels aren't part of your current programming package, give us a call (1-888-225-5837) or go online to upgrade!