About TDS Guest Author
Official news and alerts from TDS Guest Blogger.
Author Archive | TDS Guest Author
TDS strives to ensure their associates feel passionate, driven, and cared for within the organization. One of the ways it fosters opportunities to gain business knowledge and career growth is through TDS Telecom University (TDS-U). Read about a current student's experience!
As the summer winds down, it's time to go back-to-school shopping. A TDS intern and college student gives you eight fantastic tech ideas for the upcoming school year.
Looking for something new to watch? TDS TV® and TDS TV®+ customers are in luck! HBO/Cinemax are teaming up once again for a free preview, Sept. 6-10. Now's the chance to rewatch your favorite classics or find a new show to binge.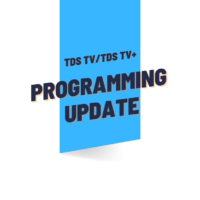 Due to a programmer decision, Outside TV is being discontinued Sept. 1, 2022. The channel is currently offered TDS TV channel 650SD/1650HD on and channel 142 on TDS TV+. 
Summer is well underway, and most of us are probably taking advantage of the warm weather. For the days that are just a bit too hot to be outside, sit back and enjoy one of these fun summer-themed movies!
Nothing beats laying out in the sun with a good book. Whether you are looking for a quick, light romance or a gripping nonfiction, this list covers it all! Take a look at some of the great books recommended by TDS associates.
Today, July 15, is National I Love Horses Day! In honor of this annual celebration of these reliable animals, let's hear from some of our TDS associates about their horses.
July is Military Consumer Protection Month and the Federal Trade Commission, the Department of Defense, the Consumer Financial Protection Bureau, and other groups are highlighting tips and resources to help protect members of the military and their families.
In honor of Father's Day, we're sharing the finest fatherly humor from its associate forum known as Dad Jokes. As the nation celebrates fathers and father-figures, here are some of the top dad jokes, which we invite you to torture others with share with others.
If you have TDS' TDS TV+ service, it's easier than ever to stream your favorite movies and shows with the TDS TV+ app! Learn how it can make your life easier (and even save you some $$).

TDS Connect Blog
Learn more about how TDS can keep you connected in the home with Internet, TV, TDS Fiber, DVR and phone services and solutions.
Connect:
Stay connected with TDS Home for the latest news.