About TDS Guest Author
Official news and alerts from TDS Guest Blogger.
Author Archive | TDS Guest Author
With another winter storm predicted in the South and East this week and cold temperatures expected for the Midwest, it's a great time to settle in and pick up a new novel. From romance to historical fiction, here's what TDS associates recommend:
There's a new spin on scammers asking people to pay with cryptocurrency. It involves an impersonator, a QR code, and a trip to a store. The FTC shares what to look out for: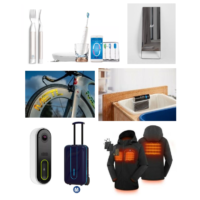 Lots of us decide to turn over a new leaf in the new year—and sometimes a little technology can help make that easier. Whether already released or soon to be, keep a look out for all these new health tech gadgets.
Today, DIY Network is becoming the Gaines' Magnolia Network. But don't worry, DIY fans, you'll still find some of your favorite shows on the rebranded network, and you may just find a new go-to among the many new series premiering soon.
If you dominate in Trivial Pursuit, sweep the floor at the local bar's trivia night, or challenge the best contestants on Game Show Network, today is your day! Jan. 4 is National Trivia day, so we've got 50 trivia questions for you. Test yourself, then share with others!
Hanukkah is all about spending time with loved ones, celebrating traditions, and, for many, giving gifts. So, as you start preparing for all eight nights, here are three things you can do to avoid scammers when shopping online.
Scammers could be behind those crowdfunding efforts and take your money without delivering what they promise. The FTC tells you what to watch out for and how to report a crowdfunding scam.
Everyone has their favorite Christmas movie, but what about Thanksgiving movies? We have 10 great options (many of which are available on TDS TV and TDS TV+!) for you to watch.
The 2022 health insurance open enrollment season is here (November 1 – December 15). So now is the time to…
more...
Hallmark Christmas movie fans, the time has come. Beginning Friday, Oct. 22, new heartwarming, mistletoe-filled movies will bring the holiday spirit to homes across the country. We have the ultimate checklist that includes all the movies on all the channels so you'll be sure to catch them all!

TDS Connect Blog
Learn more about how TDS can keep you connected in the home with Internet, TV, TDS Fiber, DVR and phone services and solutions.
Connect:
Stay connected with TDS Home for the latest news.