Gone are the days when summer was a wasteland of reruns. Get the scoop on some favorites that are returning with new seasons in the next month, and what brand new shows you could watch.
June 26: Westworld (HBO)
Season 4 of Westworld is almost here! Believe it or not, it's been two years since we last saw Delores, the other hosts, and the man in black. That may feel like an eternity ago since a LOT has happened in that time, so you're forgiven if you can't quite remember where it all left off (and to be real be real: the show can be a challenge to follow even if you watched it yesterday!).
Before the upcoming HBO premier of season 4 on June 26, refresh your memory with these guides to get you back up to speed.
For a season 3 recap, CNET has a good one that goes into detail about that last episode. Warning: it's a lot of detail though—possibly a little too much for some who want a TL;DR version.
For a slideshow-type catch-up (only 12 slides), Gizmodo has you covered. In this author's opinion, it's pretty solid.
For a character-by-character update, Nerdist has a great synopsis of where everyone left off and it's a pretty fast read, too.
July 1: Stranger Things (Netflix)
The last episodes of Stranger Things of season 4 drop on July 1 so we can finally learn what ultimately happens with the Scooby gang of Hawkins, Indiana.
July 5: The Great Muslim American Road Trip (PBS)
This new series follows a millennial Muslim couple, Mona and Sebastian, as they travel and meet new friends along the famous Route 66. While they explore, they also weave a story about what it means to be Muslim in America today.
July 6: The Green Planet (PBS), Big Brother (CBS)
In this new series, Sir David Attenborough travels the globe to reveal the secret and incredible world of plants (and who can resist his narration?). And, Big Brother remains a favorite for a reason! The 90-minute premiere of season 24 on July 6.
July 9: Steal This House (HGTV)
You may know Christi Lee from All Girls Garage but might not know she is also a home improvement enthusiast. This new show follows her helping prospective homeowners find, and fix, the perfect (read: disastrous condition) fixer upper.
July 10: Supreme Team (Showtime)
This new, three-part docuseries about the renowned Queens, New York crime organization is premiering at the Tribeca Festival first before arriving on Showtime. The shows takes you beyond the headlines and dives into the larger impact the group had beyond New York. Showtime has the trailer.
July 11: The Bachelorette (ABC), Claim to Fame (ABC)
Season 26 of The Bachelorette features fan favorites Gabby Windey AND Rachel Recchia—yes, two women will be featured searching for love at the same time, a first for the show.
Claim to Fame is a new unscripted show hosted by Kevin and Frankie Jonas with an interesting twist: 12 contestants, who are all related to a celebrity, move into the same house—and they each have to try to keep it a secret. Whoever keeps their connection on the DL for the longest, wins $100K.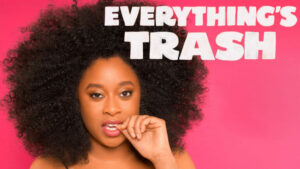 July 13: Rehab Addict Lake House Rescue (HGTV), Everything's Trash (Freeform)
Nicole Curtis is back, this time renovating a charming 1904 lakefront property in Lake Orion, Michigan (which happens to also be her hometown).
Everything's Trash is adaptation of a book by Phoebe Robinson, who also stars in the new scripted comedy show. The series follows her as a podcast star navigating her messy life, which also stars Jordan Carlos, Toccarra Cash, Moses Storm, and Nneka Okafor.
July 15: The Rehearsal (HBO)
The official synopsis says this new comedy series starring Nathan Fielder will explore "the lengths one man will go to reduce the uncertainties of everyday life." If that doesn't clear it up for you this might help a smidge: "Fielder allows ordinary people to prepare for life's biggest moments by 'rehearsing' them in carefully crafted simulations of his own design. The trailer isn't much help either, but it sure seems interesting!
July 17: History's Crazy Rich Ancients (History)
Each episode of this new series will introduce a rich and powerful historical figure and take viewers on an immersive ride through their jaw-dropping decadence (and find out who among these people spent the most!).
July 28: Pretty Little Liars: Original Sin (HBO Max)
If you're a PLL fan, you're likely not going to want to miss this new series set in the same universe, but 20 years after the events in Millwood. Three episodes will drop on Thursday, July 28 on HBO Max, and then two more episodes on August 4, August 11, and then the last three on August 18.
Don't have some of these channels in your TDS TV+ lineup? Visit tdstelecom.com or give us a call at 1-888-225-5837 to add them. Reminder: when you subscribe to HBO and/or Showtime, you also get access to their content via their apps!