TDS TV's user interface is getting a whole new look.
Don't worry, your DVR, on-screen guide and remote will still work the same as before. But visually, your TDS TV experience is going to another level.
For example, your TV guide will now include each channel's logo, making it easier and quicker to find your favorite networks. Also, when you're looking through the updated guide, you'll see posters of the movies and TV shows you highlight.
---
Another new feature is the ability just scan through shows that are currently airing by using the Guide.

---
We're also big fans of the updated Browse Panel. When you're watching live TV and want to see what else is on—or coming on—use the UP or DOWN arrows on your remote to bring up the Browse Panel. You'll be able to keep watching TV, but also see what's on other channels now and in the future.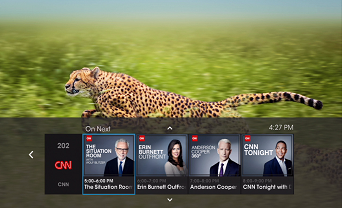 ---
The new upgrade makes it easier than ever before to keep a handy list of your most recent viewed channels. With the new user interface you can bring up a panel of the last five channels you watched by pressing the LAST button on your remote.
But wait, there's more! If you use the arrow buttons to highlight an option on this screen, you'll see what's on that channel live, right now this second. This means you'll always be able to flip between channels and catch what you want to watch.
Not a fan of your new on-screen guide? Not a problem. Follow these instructions to try out other guide views:
Press MENU on your remote control.
Press the DOWN ARROW to select Settings on the Main Menu, and then press OK.
Select Television, and then press OK.
Select Primary Guide Style, and then press OK.
Select Guide Rotation, and then press OK.
For each guide you want to include in the rotation, select the check box and then press OK. A check mark in the check box includes the guide in the rotation.
Select Save, then press OK to save the guide rotation settings.
Select Save, then press OK to exit.
You will automatically see these upgrades to your interface in the next few days. If for some reason they don't appear, or your set-top box becomes stuck on the TDS screen, reboot your system by:
Pressing the MENU button on your remote control.
Choose "Settings."
Select "Restart System."
If you're not able to perform the above reboot, try the following options:
Option 1: Hold down the power button on your set-top box for 5 to 10 seconds, until your device reboots.
Option 2: Disconnect and then reconnect the power cable from the set-top box.
If restarting your system doesn't upgrade your user interface, call us at 1–866-44-TDSTV. You can also find more information in our online User Guide.
We hope you enjoy these new updates as much as our testers have!