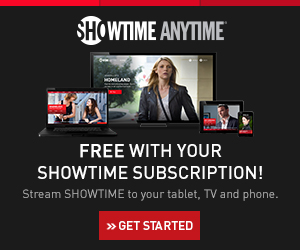 Binge-watching shows such as "Homeland," "Ray Donovan" and "Masters of Sex" or catching the next big fight live while you're on the go is about to get a whole lot easier.
SHOWTIME ANYTIME is now available to TDS TV SHOWTIME subscribers, allowing viewers unlimited access to the network's vast library of award-winning original series, movies, sporting events, comedy specials and documentaries whenever and wherever they want.
Compatible with tablets, phones, computers and smart TVs, SHOWTIME ANYTIME lets viewers watch established series like "Dexter" and "Weeds" from beginning to finish and keep up with current shows like never before.
Start an episode of "Nurse Jackie" on your phone but want to finish on your tablet? Not a problem as SHOWTIME ANYTIME allows you to pause on one device and resume on another.
Traveling and afraid you'll miss the premiere airing of one of your favorite shows or the weekend's big fight? SHOWTIME ANYTIME boasts a live TV option.
Free with your SHOWTIME subscription, SHOWTIME ANYTIME enables movie buffs, sports nuts and proud TV geeks to organize their viewing habits with the My List function.
Don't have SHOWTIME yet? Give us a call at 1-888-CALL-TDS or visit tdstelecom.com