Amazon's new toys: four tablets and updated Fire TVs
In October Amazon will be shipping four new tablets: the Fire HD8, the Fire HD10, the Fire, and the Fire Kids Edition—with Fire costing only $50. Amazon is also rolling out updates to its TV product line. Fire TV now supports 4K TV, it has its "Alexa" digital assistant built in, plus a special Gaming Edition of the box which will include a game controller (and a few other game-related goodies). The Fire TV Stick is also getting voice control and a new remote. The Verge has good detail on the new Fire TV and ars technica has a nice summary of all the tablet models.
Prosthetic hand restores sense of touch
By connecting the prosthesis to the brain, DARPA says they've managed to restore one person's sense of touch—to the point of being almost natural. The 28-year-old test subject, paralyzed for more than 10 years due to a spinal cord injury, was able to "feel" even gentle touches on the mechanical fingers.  Even blindfolded, he could tell researchers exactly which finger was being touched.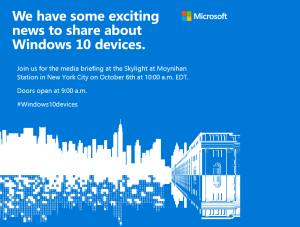 Microsoft sends invites for October 6th hardware event
Mark your calendars! Apple just did their media event last week, but Microsoft's is just around the corner. Saying they have "exciting to news to share about Windows 10 devices," the event is expected to launch the Surface Pro 4, Lumia 950 phones, and a new Microsoft Band.
Algae-based biofuels could power the future
Specifically, there's a strain of algae in Fukushima, Japan that scientists think could help bring cleaner fuel to the world. The algae, "sucks in carbon dioxide to produce natural oil." While most algae does that, this particular one can survive cold winters (unlike alternate bio fuel sources such as corn). The only down side? This algae fuel is expensive to make. Still, they're not giving up on it and we'll see if they can mass produce enough to make it cost-effective.
Motorcycle tech: a self-activating airbag jacket
Jackets with airbags for motorcyclists aren't new, but up until now they've been literally tied to the vehicle to work. A new jacket by Dainese uses sensors embedded in the jacket to determine when to deploy the airbags around the chest and neck. The sensors monitor the rider "800 times a second" to detect impact or tumbling—and all without being tethered to the cycle. Pretty darn cool.
Facebook may soon unveil more emotive button options
No one could stop talking about this news: Facebook CEO Mark Zuckerberg said this week that the social network is testing new way for people to express emotions about other people's posts. He is quoted as saying, "Today is a special today because today is the day where I actually get to say we are working on it and are very close to shipping a test of it." Long has there been a call for a "dislike" button (because who wants to "like" a comment about someone's pet needing surgery or something else not positive?) but Zuckerberg said it won't be exactly that. Instead he only said "I do think it's important to give people more options than just 'like' as a quick way to emote and share what they are feeling on a post."
Zune closing up shop on November 15
Yes, Zune is actually still out there (I know, right?? I was surprised too!).  While the music player hasn't been sold for years, Microsoft's Zune Music Pass—a subscription music service—has lived on. Anyone still on Zune Music Pass will be moved to Groove Music (formerly Xbox Music).
iOS 9 reviews are pouring in
Although Apple delayed their new Apple Watch operating system due to a bug, iOS 9 has been available since Wednesday. If you haven't already taken the plunge, you can read reviews of the updated system at Mashable, The Verge, and Tech Crunch, but the "Cliff Notes summary" is that it's a good update.  And Gizmodo highlights 23 Things You Can Do in iOS 9 That You Couldn't do in iOS 8.
UE Boom 2 is making waves
Logitech's new Ultimate Ears (UE) Bluetooth wireless speaker got a lot of favorable press this week. They've amped up the volume (now 25 percent louder) and now you can go twice as far (100 feet). The battery life hasn't changed—you'll still get about 15 hours out of it—but now it's also waterproof and can survive drops of up to 5 feet.  The Verge and Gizmodo were going on about it, so it could be a worth item for a holiday gift list.