A seriously affordable smartwatch hits the market
Pebble, the Kickstarter darling of smartwatches, is back. This week they announced a new campaign for three different devices. They're introducing the Pebble 2 smartwatch that's only $129 (and waterproof), the Time 2 for $199, and a whole new product called Pebble Core. The Pebble 2 is a bit more plastic, lacks a sexy color screen, but does a lot for a hard-to-beat price point for a smartwatch. The Time 2 is bigger, sexier, and plastic-free – so basically the deluxe version of the Pebble 2. Pebble Core is a running wearable with built-in 3G modem, GPS, and Spotify playback. For $69, it's an interesting widget. As for why an already-successful company would return to Kickstarter, Slashgear got some answers.
Note to Microsoft: "streamlining" is PR for slashing
Microsoft says its "streamlining" its smartphone business. This week the Windows company announced it would lay off 1,850 smartphone staff and take an accounting charge of $950 million related to the cuts. Ouch. The goal is to "be more focused" on their phone hardware efforts. This comes on the heels of Microsoft selling its feature phone business last week.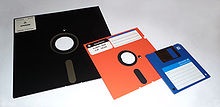 U.S. nuclear program still uses floppy drive machines
The '70s are alive and well in the U.S. nuclear program—at least in terms of technology. No joke, they're still using floppy disks. Refresher: in the 1970s, before the days of CDs, people used 8-inch disks in computers to load programs. Because they were bendy, they were called floppy disks (as opposed to the much-more-modern 3.5-inch non-floppy disks in the '80s). Well, the nuclear program is using them today to coordinate intercontinental ballistic missiles, nuclear bombers, and tanker support aircraft (and it's costing $60 billion a year to maintain out-of-date technology in the U.S. government, by the way). Changes are coming by the end of 2017, but, yikes. (Image: George Chernilevsky)
Stair-climbing wheelchair gets new legs
The guy who invented the Segway also invented a really cool wheelchair too—it'll go over rough terrain, balance on two wheels so the user can be at eye-level with others, and even climb stairs. The bummer? It was discontinued in 2009 because people didn't buy it (did I mention it cost $25,000?). Now, with the financial backing of Toyota, it's coming back. The goal is to introduce a next-gen version of the chair, using all of the tech advances that have happened over the last 15 years since it was first invented. You can see what the iBOT can do in the partnership announcement video (below). You can't tell me it's not sexy.
Now you've got more characters to blather with
Twitter says they're changing the rules for tweets so you'll get a little more leeway. Images, usernames, polls, and quoted tweets won't count towards the normal 140 character limit. Oh! And user handles in replies won't count either (now THAT's something I will definitely notice). When are the changes coming? "Over the coming month" so watch for them.
Quiet please: Kickstarter/CES favorite now shipping
Hush Technology is now selling "the world's first smart earplugs" that claim to offer up to 70 dB worth of noise reduction. The earplugs work by combining a passive noise barrier (foam or silicone tips) and white noise (or other soothing sounds) for a huge noise reduction. They connect to your smartphone via and app that lets you choose your sounds AND which of your phone's apps you want to hear through your earplugs—you know, like your alarm (which the app has as well). You've got to charge them every day, but man, if they work? So worth it for a good night's sleep. Full disclosure: I just ordered some so I'll let you know how I like them.
Spoiler alert: new Xbox models coming this year and next
The info is coming via "sources" but rumor has it that Microsoft will roll out two new models—a smaller, cheaper Xbox One this year, and a more powerful version next year. The 2017 model has the amazing code name of Scorpio and allegedly will be able to support the Oculus Rift. The model expected this year (no cool code name) will be more compact but with a 2TB hard drive. Kotaku has more details and says an official announcement is expected at E3 next month.