Garage door openers just got sexy
Father's Day/Mother's day alert! What Nest did for the boring 'ol thermostat, Ryobi is trying to do with its new garage door opener.  Sure, it opens your garage door but you can customize it using add-on modules. Want a fan? You can get one. Need a retractable reel extension cord? Done. Want a Bluetooth speaker? Modules start at $44 but if you want to go all out, you can even add a $248 laser Park Assist module. And of course it has smartphone app so you can know if you accidentally left the door open (and close it remotely). Image: Ryobi
Kickstarter of the week:  FlipFlic—make your "dumb" window blinds smart
The solar-powered device turns your horizontal or vertical blinds open and closed automatically based on sunlight, temperature, or a set schedule using the app (or you can control them manually, of course!). FlipFlic's aim is for energy efficiency, but man, this could be really handy for hard-to-reach windows and if you travel a lot. You can still score some single ones for $85 or some multi-packs if you have more than one window you'd like to us them on.
Kickstarter runner up: Mr. Beam II—The Desktop Laser Cutter and Engraver, because lasers are awesome (it's like a Cricut on steroids!)
A new high-end Kindle coming soon
According to the Wall Street Journal, Amazon's newest device will take over the Voyage for the top spot in the company's e-reader lineup.  Rumor has it you'll also be able to get a rechargeable protective case to extend the reader's battery life—or maybe even a battery case that can be recharged using the sun. Amazon's CEO said on Monday that the new Kindle is almost ready, and an official announcement is expected next week.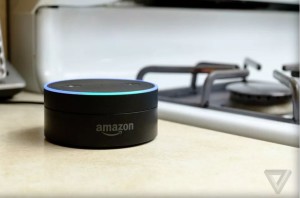 Amazon Dot speaker review
The company's Echo speaker has been outselling even their e-readers, and it now comes in a smaller form—the Dot. Currently only available for current Echo and Fire TV owners, you know it'll be available to everyone soon, so you might be curious to read The Verge's review (summary: it's not an awesome speaker, but the future of the smart home). Image: The Verge
The Internet will soon be the internet
For my fellow grammar geeks out there: the Internet as a proper noun is going the way of the Dodo. The Associated Press Stylebook announced this week that come their next edition in June, they are changing "Internet" to "internet." The change is to reflect popular usage and the Internet being used as a general concept. It may take a while to retrain my fingers, so bear with me.
Nerd alert: Rogue One
Nerd alert: Rogue One
If you haven't watched the teaser trailer for the newest Star Wars film, what's wrong with you? ;-). If you have, watch it again! The movie is set after Episode III: Revenge of the Sith and before Episode IV: A New Hope. It sounds like it's a heist movie about how a group of Rebel fighters work together to steal the plans for the Death Star. If you want to pick the trailer apart, scene by scene, io9 did a very detailed break down.
Enjoy – happy Friday!