On the morning of Friday, Aug. 13, nine TDS associates (and one of their spouses) gathered in the Renaissance in the Park neighborhood in Fitchburg, Wisconsin for a day of hard work with Habitat for Humanity of Dane County—a nonprofit organization building affordable homes in all 50 U.S. states and 70 countries worldwide. Habitat homeowners help build their own homes, alongside volunteers, and pay an affordable mortgage.
Throughout this beautiful—albeit, hot—day, TDS volunteers completed a number of homebuilding tasks in four different neighborhood homes, including painting, trim work, landscaping, and preparing the homes for occupancy.
TDS Coordinator of Billing Data Management Raul has been volunteering with Habitat since 2015. In 2016, he helped organize a volunteer committee within the organization to take advantage of TDS' support of associate community involvement.
"Our committee organizes a volunteer event each quarter," said Raul. "In addition to Habitat for Humanity of Dane County, we have worked with organizations like The River Food Pantry, the Polar Plunge for Special Olympics, Second Harvest Foodbank of Southern Wisconsin, and the Heartland Farm Sanctuary. We were thrilled to make our big comeback at the Habitat build, and hopefully we can get back to that schedule soon!"
Ever since he got involved with Habitat, the Renaissance in the Park neighborhood has been a large source of Raul's volunteer efforts.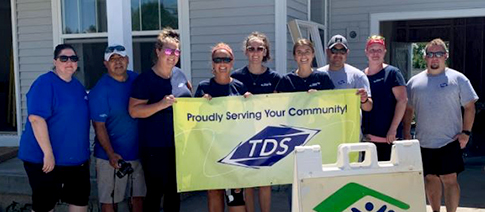 "When we started working in this area six years ago, it was a lot of open fields," said Raul. "Now, with the support of TDS, the Be Good Citizens Program, and Habitat for Humanity of Dane County, we've helped provide homes to people every year, with the exception of 2020."
TDS Senior Analyst of Billing Assurance Melissa has been volunteering with Habitat for 3½ years.
"I've watched the families who now live in the houses we helped build my first couple of times volunteering, and it's always so rewarding," said Melissa. "They're just average, hard-working Americans in need of a break. Seeing them in the beautiful, finished homes that we started is amazing."
Melissa is also grateful for these volunteer opportunities because it gives her the chance to harness new skills that may benefit her in her personal life.
"I love the opportunity it gives me to do something I wouldn't normally do," said Melissa. "I've learned how to install drywall, put in floor trusses, and other tasks. Those are skills I just wouldn't learn without volunteering with Habitat!"
Interesting note:
The neighborhood where TDS associates partnered with Habitat for Humanity of Dane County is just down the road from the TDS Fiber billboard overlooking the West Beltline Highway near Fitchburg.