Mother's Day is May 9 and TDS is bringing you some unique and fun gift ideas to show mom you care. Here are 15 perfect presents to make sure your mom feels like she's number one.
Customizable gifts
If you're looking for unique and customizable gifts, consider the small businesses and individual creators on Etsy. From personalized bracelets, necklaces, and rings to embroidered pillows and custom portraits, there's something for every mom. Here are a few that stand out.
Do you call your mom by a special name? Maybe you have a great memory or went on an amazing vacation together? For the jewelry lover, put what makes your mom unique into words with a personalized gold little letters necklace.
Customized throw pillows are a great gift for a mom or grandma with children in multiple states and cities. In the text box, select your fabric, size, state and cities, map ink color, and phrase if different than the one provided. The Mother's Day puzzle sign is another great, related option.
For new moms
For the new mom, Esty has a couple options to choose from, starting with the highly-touted Personalized Dear Mommy Book—a handmade children's book from your child tailored to his or her mom. For just $33, its guaranteed to create some lifelong memories. If she's a coffee fanatic, allow her and your child to share the first reading experience with matching drinkware for $47.
Tech gifts
$180 ($15/month)
People are always looking to master new skills, and MasterClass is a popular online subscription service to allow your mom to become an expert at practically anything. Whether it's cooking with Gordon Ramsey, tennis with Serena Williams, or creative writing with Margaret Atwood, give her the gift of learning from the industry's best.
There's an expansive library of classes, and new ones are added on a monthly basis.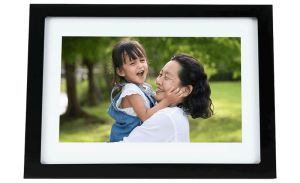 Skylight Frame
$159
With the digital photo frame, Skylight, light up your mom's home with up-to-date family memories! Using the device's unique email address, you can upload new photos that appear on the frame in seconds.
For just $39 more per year, you can also upgrade to Skylight Plus, which allows you:
Send and play videos on Skylight.
Add text captions to photos.
Back up all your photos on cloud.
View, download, and share photos online.
$7.95/month or $14.95/month
Audiobook consumption by adults in the United States has skyrocketed.
Help your mom experience a never-ending assortment of entertaining and binge-worthy best sellers with Audible. Audible offers two subscription plans, both providing unlimited access to thousands of select audiobooks and podcasts. For under $8 a month, take advantage of the expansive audible plus catalog, including a constantly growing assortment of Audible Originals. For an extra $7 per month, your mom will be able to pick one premium selection per month to keep forever—even after her subscription expires.
Gosund Smart Plugs — four-pack
$26.99
Gosund smart plugs are excellent additions to pair with Alexa or Google Home Assistant. By setting up schedules and timers, your mom can carry out a variety of activities from home or on the go via the Gosund App. She can turn on a bedside lamp at the same time every morning, turn off the lights at night, or have a fresh pot of coffee ready to go in the morning.
Set up is very easy and outlined in the directions. Save your mom "time" this Mother's Day.
Home gifts
$115 (with promo code)
While it's pleasing to look at, the best-selling Always Pan isn't just a cult-favorite because of its aesthetics. It truly is the "Swiss Army knife of pans," and is designed to replace eight traditional pieces of cookware—including your mom's fry pan, sauté pan, steamer, skillet, saucier, saucepan, non-stick pan, spatula, and spoon rest.
When you order from the Our Place Website, save $30 with the promo code GOODTASTE30 at checkout.
Prices vary
If you can't go wrong with flowers, how can you possibly go wrong with flowers every month? Bloomsybox offers various weekly, bi-weekly, and monthly plans that send your mom nothing but the finest farm-to-table bouquets and blooms—from $44.99 per month with shipping included. While these plans can be cancelled at any time, the website also has a stunning assortment of Mother's Day collections guaranteed to brighten your mom's day.
Activities with mom
As great as gadgets and gifts are, quality time is impossible to beat.
Plan a picnic. Pack a comfortable blanket and a basket or cooler full of your mom's favorite fruits, snacks, and deserts, and head out to her favorite spot. Whether it's a nearby park, beach, or even your backyard, it doesn't matter. There's something special about enjoying each other's company in nature with some delicious food.
Plant flowers together. While sending flowers is a thoughtful gesture, getting your hands dirty together in the garden is always a fun and exciting surprise. Marigold, sunflowers, or calendula are some great flowers to plant in May.
Rent a movie. Feel-good comedies based around beautiful (and sometimes challenging) aspects of motherhood include Lady Bird (2017) and Bad Moms (2016).
By Garrett Seymour