California, here she comes! TDS associate Cindy is headed to Pasadena, California, and she's checking off one amazing experience on her bucket list.
Cindy will be volunteering her time as a float decorator for the Rose Parade®.
"I have never been to the Rose Parade, and I've never been to California," said Cindy. "I will be in Pasadena for five nights starting Dec. 29. This is very exciting for me."
Last spring, someone from Cindy's church asked her if she wanted to be part of the Rose Parade decorating team. "I immediately said, 'Yes, sign me up, I don't have to think about it.'"
Cindy will be going with six other members from her church, Barneveld Lutheran Church in Wisconsin. The group will be decorating the Lutheran Hour Ministries float, which has designed and decorated a float for the Rose Parade for more than 70 years.
Every inch of the Rose Parade's elaborate floats must be covered with flowers or other natural materials, such as leaves, seeds, or bark. The most delicate flowers, including roses, are placed in individual vials of water and set into the float one by one.
"I'm looking forward to helping create a masterpiece," she said. "I can't wait to meet new people, spend time with my friends, and yes, take lots of pictures."
This year's parade theme is "Turning the Corner" and the title of the float Cindy will be working on is "A New Day with Jesus!" Along with three full days of float decorating, Cindy will learn how the floats are designed, constructed, and decorated.
About 15 years ago someone told Cindy to make sure she put the parade on her bucket list. "They told me I needed to see the parade in person. Now, I'm going to be helping create an actual float."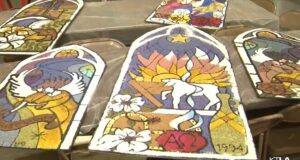 What makes this extra special for Cindy is she enjoys making flower arrangements for weddings and other celebrations and she "really loves to do any creative artwork."
The 134th Rose Parade and 109th Rose Bowl Game returns Monday, Jan. 2, 2023, starting at 8 a.m., PST. Following their three days of float-decorator work, Cindy's group will watch the parade from their grandstand seats.
"What a way to begin the New Year," said Cindy.
About the Rose Parade:
For millions of people around the world, the Rose Parade is an iconic New Year's Day tradition. The nearly six-mile parade route is down Colorado Boulevard in Pasadena. The parade features four types of entries: floats, marching bands, equestrian units, and vehicles that carry the Grand Marshall, Mayor of Pasadena, Tournament of Roses President, and the Rose Bowl Game Hall of Fame inductees.
This year, former Arizona Congresswoman Gabby Giffords will serve as Rose Parade Grand Marshal. Gabby's remarkable recovery from traumatic injuries epitomizes the 2023 theme, "Turning the Corner."