Just because we love technology doesn't mean we don't enjoy sitting down with a good book (whether it be in old-school print or on a fabulous new e-reader). But why waste your time on a bad book? If you're going to take the time to read, it should be something goooooooood.
We've been combing the "Best of 2016" lists –all of them. The goal? To bring you the best books from the "best of" lists.
We looked at Goodreads, The New York Times, NPR, The Chicago Tribune, Vulture, Huffington Post, Buzzfeed, and Publishers Weekly. After comparing their picks, we pulled out six books that made it on multiple lists, making them the cream of the crop:
1. The Underground Railroad, by Colson Whitehead (fiction). This story made at least four of the lists we looked at, PLUS it's a National Book Award Winner and it's an Oprah Book Club pick. Although from the title and description you might think you've heard this story before (it's described as a "magnificent tour de force chronicling a young slave's adventures as she makes a desperate bid for freedom in the antebellum South"), it's not. In Whitehead's tale, the railroad is an actual railroad with cars and conductors. The New York Times calls it imaginative, unexpected, substantial, and important. It has a reader score of more than 4 stars, on both Goodreads and Amazon (after more than 32,000 ratings across both sites), so it's clearly a very compelling read (and really, aren't the best books compelling?)
2.The Vegetarian, by Han Kang (fiction). Another award winner (the 2016 Man Booker International Prize) and it also appeared on more "best of" lists than it didn't. The story follows a South Korean's housewife's decision to stop eating meat. Slate says, "The Vegetarian is by no means a book about vegetarianism or the people who practice it and why. What The Vegetarian is about is abstention."  Reviewers love this book, but there's a slight "but." We couldn't help noticing that reader comments aren't quite as rave. On Goodreads it's getting a score of 3.62 after 18,000+ ratings (still not shabby, but not "OMG it's amazing" either). People are saying it's a pretty quick read, so maybe give it a go and add your review to the mix.
3. The Association of Small Bombs, by Karan Mahajan (fiction). This was a finalist for the 2016 National Book Award. The Book Foundation website says: "The book starts with a blast, chaos, and death in New Delhi, and then takes us through a story of searching; people trying to pick up the pieces, people trying to understand why things happen the way they do, and also people looking for something better and the lengths they will go to for it." Given the subject matter, this could be the kind of book you wouldn't normally think to pick up—but that's exactly why "best of" lists are so helpful. Sometimes the best stories are the ones that pull out out of your normal comfort zone.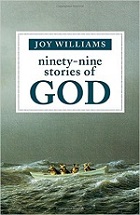 4. Ninety-Nine Stories of God, Joy Williams (fiction). This book, which is a short story collection, was written by a Pulitzer Prize and National Book Award finalist. The publisher describes this book as, "a series of short, fictional vignettes explores our day-to-day interactions with an ever-elusive and arbitrary God." Huffington Post said the work is evocative, and although the stories concern God, they "do not concern the benefits of faith." Instead its about "the way we make sense of coincidence…". Readers say many stories are as short as a page or two, which might be a nice fit if you struggle to find time to read. There must be some depth to even the quick reads though, as Ninety-Nine Stories made it on many top lists.
5. Evicted: Poverty and Profit in the American City, by Matthew Desmond (nonfiction). Described as both brilliant and heartbreaking, the author tells the story of eight families struggling in Milwaukee, Wis.  These people, and those in similar financial straights, spend more than half of their income on housing, which profoundly shapes both their lives and their experiences. Desmond did years of fieldwork to capture this picture of extreme poverty and to explore how eviction perpetuates poverty. And more than that, how everyone is hurt by the current system. One reader said they didn't want the book to end—and, let's be real here, that's not always the case with nonfiction. Given its popularity, and the important topic it discusses, maybe add this book to your own list.
6. Dark Money: The Hidden History of the Billionaires Behind the Rise of the Radical Right, by Jane Mayer (nonfiction).  This is the last book we spotted that made multiple "best of" lists. The author digs through the historical record to show how a network of exceedingly wealthy people with extreme views systematically and fundamentally altered the American political system. If you've ever read any Dan Brown, the descriptions of this book seem like something straight out of his creative mind—but, in this case, Mayer's conclusions are based on five years of research and hundreds of interviews. multiple "best of" lists.
Want to check out the book lists for yourself? Here are the ones we looked at:
We're betting you'll find a few more selections that made at least two lists!
One more thing: If you're all caught up on your 2016 reading list, maybe start checking out what's coming for 2017. The Chicago Tribune and Vulture have reading previews (note: the books Marlena, All Grown Up, Sorry to Disrupt the Peace, 4 3 2 1, and The Idiot make both lists), and The Verge has sci-fi fantasy books for your consideration as well.