It's Women's History Month, we interviewed four women who are currently working or have worked as TDS field service technicians. Meet these trailblazing women and learn why they enjoy their jobs.
If you ask any field service technician, they all have stories of making customer connections, but for TDS' Catherine of Wisconsin, her story involves an eight-year old daughter of a customer.
"I was in Mosinee (Wisconsin) and this eight-year girl really enjoyed watching me work. We hit it off right away. She would hand me tools and even put on a hardhat," Catherine said.
"At one point, I had to go through this crawl space where there were a few dead mice.  The space was small, but she just crawled right in there and helped me work through the project. We became fast friends," she said.
When Catherine finished her work and was getting ready to leave, her mom "took our picture" and made a point to thank me for making it a great day for her daughter. "I made sure the little girl knew she could do this job someday."
Job satisfaction
Solving problems, talking with the customers, and hearing a "thank you"—all field service technicians agree it makes the job worthwhile.
For Crystal of Deposit, New York, she enjoys see enjoys seeing a smile on a customer's face when their service has been resolved. "That's the best part, when they call the office and specifically ask for you, because they now trust you. The instant gratification that's a big thing for me."
Meet Becky of Medford, Wisconsin
Becky started working as a field service technician 26 years ago. She was the first woman field tech in the area. She eventually was promoted to a lead technician and then five years ago became a field services manager.
"Everyone I worked with was great and they helped me learn the job," she said. "My first week feels like it was yesterday," she said. "If you like working outside and meeting people, this is a great job. It's fun and very rewarding when you solve a problem for the customers. It's challenging, but in a good way."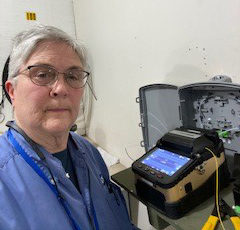 Meet Mary, Monticello, Minnesota
Mary has been working as a field service technician for nearly 25 years.  She started with TDS Datacom and then was hired as an apprentice in field services. Today, she teaches all the safety training for the technicians in the Minnesota offices, including forklift certification and CPR.
Chad has worked with Mary for 24 years. "In addition to being a great person, Mary is without question one of the best technicians I have ever worked with," he said. "Mary oozes customer service and she takes pride in all she does.  If there were a picture alongside of the phrase Customer Delight, it would be a picture of Mary."
Crystal also receives kudos from her manager Mark.
"It really has been a privilege to work with Crystal. She's a very talented technician and she's received many compliments about her service. Many times our customers ask to have her come back," Mark said.
Learn more about a career at TDS, including as a field service technician, at Careers | TDS (tdstelecom.com).