Your home should be a haven—a place where you can relax and truly feel yourself. For those of us who love the warm summer months, decorating our home with "beach" or "lake" decor is a great way to create that vacation time ambiance that can help even the most overworked soul unwind. With a just a few small updates and a little "Seen on Pinterest" inspiration, you can turn your home (or at least a room) into something with coastal chic vibes that will make your friends think you've hired an interior designer.
Most of the updates we suggest below are easy and inexpensive (think: switching out pillow covers) – and can be added to rooms seasonally, allowing you to go from beach house chic to ski lodge style in no time flat.
Play with the Pillows
Pillows are some of the fastest ways we know to inexpensively change the look of a space. Switch out your pillowcases and covers for lighter colors and fabrics come summer and you'll instantly transform a room. If you don't want to move all of your pillows, pick a small side chair and add a fun accent pillow for each season. We love these whimsical needlepoint pillows on Gilt Groupe, and Pottery Barn and West Elm often stock fun options as well – check the sale section for great deals!
Creative Coffee Tables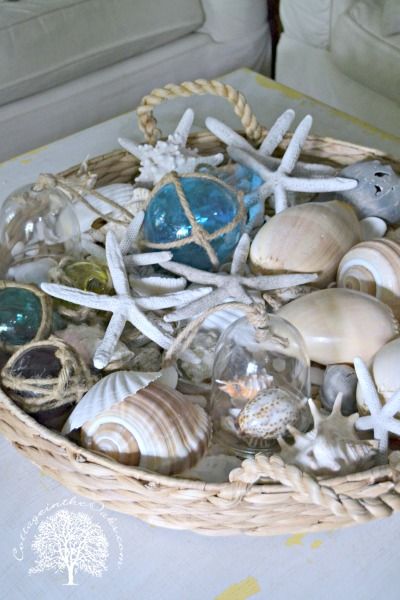 Coffee tables aren't just for unread magazines and the TV remote. "Style" the coffee table like you'd style the centerpiece in your dining room. Add a big bowl of candles and fill with sand and shells (found inexpensively at a craft store) for summer, and then switch out for wine corks in the fall, and faux snow or ornament balls come winter. The opportunities are endless.
Take On the Paint 
Look around your living spaces. If you are still seeing floral wallpaper, it's time for an update. Neutral colors such as whites, soft greys and blues make a room appear brighter and more modern – they will also visually increase the size of a room. While light colored furniture may not be practical for those with children, lighter walls can give the same impact of a less cluttered, more open space. The airy feeling will leave you relaxed in no time flat. Search sites like Thumbtack.com for reputable painters and you can even leave the hard work to someone else.
Lighten Up
Long summer days mean more time for sunshine. With the exception of the bedroom (which we'd like to have complete blackout shades for optimal sleep), summer is a great time to lose the heavy drapery. Send those bad boys out to be dry cleaned and you'll see instantly how much more airy your rooms feel! Opt for plantation shutters if budget and decor permit, or instead try loose, gauzy white curtains. Like paint and pillows, these new "trimmings" visually transform a room without spending over budget to replace furniture.
Add A Candle 
Don't want to adjust your favorite decor? You don't need to. Add a lightly scented candle that reminds you of your favorite place to a living room, bedroom, or kitchen, and let the scent inspire you. We tend to stay away from pungent odors like coconut and tropical flowers, which can get cloying, and instead opt for bright citrus—like lemon—in a kitchen, cool sea scents—like salt air—in a living room, and soothing scents—like clean linen—in a bedroom.
Get Outside
Long summer days call for time spend out of doors. Take hints from our earlier garden or outdoors columns, or invest in a pretty set of melamine (read: anti chip and dishwasher safe) for outdoor dining.
Take away the TV 
Long days at the beach call to mind great books, leisurely cocktail hour, and plenty of fireside chats. Nowhere in this did we hear "Primetime TV." Consider taking the TV out of at least one of the common areas of your home to encourage face-to-face communication. It might be your formal living room or your cozy reading nook – but "tech free" home zones will bring you much closer to that beach "zen" you feel while on vacation.