More than 1.5 million hits, 20,000 likes, 1,500 comments and dozens of TV news stories airing coast-to-coast—Eric Lever, TDS field service technician in Ludlow, Vermont, is a bit of a media star.
A post on Facebook about how Eric and the fire department where he works saved Thanksgiving for a family has gone viral.
It all began on Thanksgiving morning when the Ludlow Fire Department, where Eric works on an on-call basis on his time away from TDS, received a call about an oven fire in Ludlow.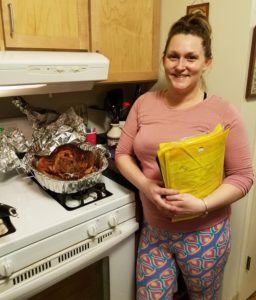 Samantha DeCarvalho (below) was starting to prepare Thanksgiving dinner when she spilled a tiny bit of vegetable cooking oil in the oven. That small amount of oil caught the oven on fire—DeCarvalho grabbed her 1-, 7- and 9-year-old boys, ran out outside and called 911.
"I thought I was going to lose everything; I thought the whole place was going to go up," DeCarvalho said.
Firefighters got there in about four minutes and put out the fire. No one was hurt, but Captain Eric Lever had to tell Samantha her oven was off-limits.
"I thought it wasn't safe, so I said, 'You can't use your stove anymore.'" Eric said the family was saddened with the news. He overheard one of Samantha's sons saying, "What? No Thanksgiving this year?"
As the crew was heading back to the station, Lever thought that something needed to be done to help this family out. The team of firefighters agreed and turned back to bring the dinner Samantha had started to cook down to the fire station to finish cooking. The fire fighters then brought the cooked dinner back so the family could celebrate Thanksgiving at home. Since Samantha had just moved to town, she had nowhere else to go. The firefighters all agreed they thought this would be a "nice gesture."
"We also baked them some cookies and brought a few gifts for the family," said Eric. "It's just something we do around here."
The department posted photos about what happened that day on its Facebook page, then the CBS news station out of Burlington, Vermont, reported on the story. "The story just exploded," Eric said. "I never expected this to happen." Eric and Samantha both fielded several media calls.
News outlets in Sacramento. New Mexico. El Paso. Louisville. Bend. Milwaukee. Maine. Boston. and the Chicago Tribune, to name a few, have all broadcast the news story.
A few days after the barrage of media stories, Eric said he talked to Samantha to see how she was doing. "We both had a good laugh and agreed the media attention has been a bit overwhelming." However, they both said it will be a Thanksgiving to remember.
While being part of a national story has been "a good time", Eric said he's looking forward to going back to his day-to-day life. "I'm ready to go back to a normal life," he laughed.
When Eric's supervisor,Butch Sarracco, a senior TDS field service technician, heard about the story he wasn't shocked Eric was part of it. "Eric is not only a great field service tech, but he's always willing to help out when needed. I'm not the least bit surprised that he and the team of firefighters at the station went that extra mile to help someone in need."
Eric has worked at TDS for 25 years and been a firefighter for 22.  A big thank you to Eric for all of his contributions!