No, we're not talking about Christmas in July sales prices—we're talking about movies! Sorry/not sorry to those who hate even…
more...
On July 16, 2022, 9-8-8 will be the new three-digit number to call, text or chat that connects people to…
more...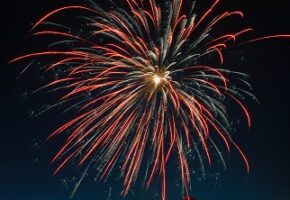 Get into the patriotic spirit, take our quiz, and then wow, your friends with your knowledge of July 4th trivia.
Today's featured act set a standard in metal—so much so—they are also likely the creators of several metal sub-genres. They're a band that just about all heavy rock artists look up to.
Gone are the days when summer was a wasteland of reruns. Get the scoop on some favorites that are returning with new seasons in the next month, and what brand new shows you could watch.
For Pride Month, the FTC wants the LGBTQ+ community to know about some of the rights related to credit and discrimination. Learn what you need to know.
Younger audiences who are fans of the NBC hit show "The Office" may remember Supertramp's "Goodbye Stranger" being parodied by Michael Scott and turned into "Goodbye Toby"—a classic episode. But that grandiose theater rock that Supertramp was great at, especially on this album, is incredibly timeless.
A four-hour documentary about the mental health crisis among youth in America premieres on PBS stations nationwide on June 27 and June 28, 2022 at 9 p.m. ET, 8 p.m. CT, and 7 p.m., MT. Learn more.
Updated for 2022! Most parents don't want their small kids accidentally wandering into the deep end of the internet without supervision. Parental controls can help keep your kids within the online content areas you're comfortable with. We've rounded up quick links and, in some cases directions, to the parental controls for all of the major streaming services and the most-popular gaming platforms.

TDS Connect Blog
Learn more about how TDS can keep you connected in the home with Internet, TV, TDS Fiber, DVR and phone services and solutions.
Connect:
Stay connected with TDS Home for the latest news.