About Cindy Tomlinson
Cindy Tomlinson is the Associate Manager of Public Relations at TDS Telecom. She has a solid foundation in corporate public relations, social media, and reputation management. In order to generate news, Cindy has immersed herself in the technology. For the last eight years, Cindy has been generating positive awareness for TDS and the company's products, services, employees, and involvement in the community in hundreds of local, state, national, and industry publications. She has a keen understanding of hosted, managed, and cloud services, VoIP, broadband, and telephony. With 20 years of Public Relations experience in a variety of settings (non-profit, agency and corporate) Cindy is quick to take on projects, learn about new technology, and seek opportunities to put the company in the spotlight. She is a graduate of UW-Stevens Point and can be found on
Google+
and
LinkedIn
.
Author Archive | Cindy Tomlinson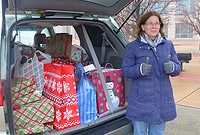 It's National Volunteer Week! Volunteering is a great way to get involved with an organization whose mission is important to you. In fact, TDS employees are encouraged to volunteer in our communities—we even give each employee 16 hours of paid time off every year to get involved and give back. Find out more about our efforts and tell us how you give back.
Hunger is a far-reaching problem and one that TDS Telecom CFO/vice president of Finance Vicki Villacrez is determined to help solve. Read how Vicki hopes to use her business expertise to help Second Harvest Foodbank of Southern Wisconsin accomplish its mission of ending hunger in the areas the agency serves.
TDS employees aren't done with their giving efforts. Our folks have been out and about in their communities lending a helping hand and donating time and goods. Hear about our latest contributions to the communities we serve.
You can't find the community of TDS on a map because employees are spread across the United States. But just because we live all over, doesn't mean we don't share a common goal to give back to the communities we serve. At no time during the year is this more evident than at the holidays. Employees all over the country are chipping in, donating, and helping to make a difference. Find out how.
The need for food is great and continues to grow while all too many continue to go hungry. To help make a difference, TDS recently made $1,000 contributions to several food pantries in southern Wisconsin—but the help doesn't end there. Employees across the country are also stepping in to help in their own communities.
Medford has much to offer—after all, it's the home of Tombstone Pizza and the gorgeous Chequamegon National Forest is nearby. But, from a TDS perspective it's also quite unique. Medford is part of the Midway Telephone Company exchange, which was among the first 10 Wisconsin companies acquired by TDS. You could say that Medford is part of the foundation TDS was built upon.
After wildfires burned in Northern California, TDS was one of the first utility companies allowed back in the area. Not only did we check to see that phone and Internet services were working, one of our Field Services managers made sure one gentleman, who hadn't evacuated, got the food and water he needed.
Good news! We're receiving grant funding to improve high-speed Internet service in some of the most remote areas we serve in California. We're also making big progress on our American Recovery and Reinvestment Act projects in Minnesota, Indiana, New Hampshire, and Wisconsin.
TDS Employee Nicole Joraanstad is going for gold! And, TDS will be backing her throughout the upcoming trials all the way to the 2014 Olympic Winter Games in Sochi, Russia. For the second Olympics in a row, TDS is sponsoring Nicole and her U.S. curling team.
For many families, the first day of school is very exciting. Kids start the year with new clothes and shoes…
more...
TDS Connect Blog
Learn more about how TDS can keep you connected in the home with Internet, TV, TDS Fiber, DVR and phone services and solutions.
Connect:
Stay connected with TDS Home for the latest news.