About Cindy Tomlinson
Cindy Tomlinson is the Associate Manager of Public Relations at TDS Telecom. She has a solid foundation in corporate public relations, social media, and reputation management. In order to generate news, Cindy has immersed herself in the technology. For the last eight years, Cindy has been generating positive awareness for TDS and the company's products, services, employees, and involvement in the community in hundreds of local, state, national, and industry publications. She has a keen understanding of hosted, managed, and cloud services, VoIP, broadband, and telephony. With 20 years of Public Relations experience in a variety of settings (non-profit, agency and corporate) Cindy is quick to take on projects, learn about new technology, and seek opportunities to put the company in the spotlight. She is a graduate of UW-Stevens Point and can be found on
Google+
and
LinkedIn
.
Author Archive | Cindy Tomlinson
Following the straight-line winds that came through West Tennessee over the weekend, TDS Telecom customers in parts of Parsons, Decaturville, and Scotts Hill remain without phone, internet, and TV services.  Read updates here.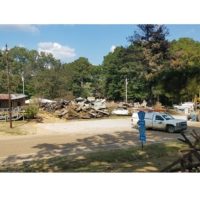 When a fire breaks out in an old wood building—destroying a popular community steakhouse and melting TDS equipment leaving residents without phone or internet service—what can a community do? In the case of Big Creek, Mississippi, the answer was "a lot." Find out how the community chipped in to help make TDS' restoration work go smoothly.
Here at TDS, we strongly believe the concept of a diverse and inclusionary workforce—and are making strides to make that happen. Check out this recent story in ISE Magazine about our latest efforts.
Year-after-year, TDS employees give to help others. This happens twelve months out of the year, but at the holidays their giving spirit is even stronger than usual. We thought we'd take this chance to share some of the great things our employees have been up to all across the country
When one part of the country has too many small dogs up for adoption, and another doesn't have enough, Katie (an employee of a TDS company) gets ready to roll. She makes "puppy runs" and helps transport dogs to other shelters so they can find their furever homes.
Every little bit makes a huge difference to those in need. From adopting a family, to peeling onions and potatoes, to assembling hygiene kits, employees are really doing it all to help others.
From collecting food for those in need and acting as angels, to ringing bells and giving away gifts to help others, TDS employees have been moved by the holiday spirit! Find just some of the things we've been up to for the last few weeks, all across the U.S.
TDS receives many invitations to participate in events, become a corporate sponsor, or simply donate items for giveaways. Unfortunately we can't say yes to all of them. However, we recently said yes to include Links for Lauren and Ducky Days. Plus, a few our techs chipped in and helped out the Fayetteville-Perry, Ohio school district.
TDS employees are helping the communities we serve by chipping in on local events and giving back in many ways to help make the holidays brighter. Find out what we've been up to!
We may be your local phone and Internet company, but we're also your advocate in Washington. There are lots of big issues in the telecommunications world that could affect you (and your bill) including rural call completion, retransmission consent, and changes to the universal service fund. Find out about our meetings with almost 20 members of congress and how TDS is working on your behalf.

TDS Connect Blog
Learn more about how TDS can keep you connected in the home with Internet, TV, TDS Fiber, DVR and phone services and solutions.
Connect:
Stay connected with TDS Home for the latest news.