About Cheryl McCollum
Cheryl McCollum works on the communications team for TDS Telecom. She enjoys spending her weekends hiking the Ice Age National Scenic Trail in Wisconsin and all things outdoors. She has a special place in her heart for the people of Belize and serves on the board of directors for Lighthouse Ministries. What started as a mission trip of helping those in need, has evolved into funding the construction of a new school in Cayo District and so much more.
Author Archive | Cheryl McCollum
TDS and the NFL RedZone are offering a free preview! Seven straight hours of live football and every touchdown from every game are coming up Nov. 5.
Every October, businesses including TDS work to raise awareness on the importance of cybersecurity. Here are four steps to stay safe online.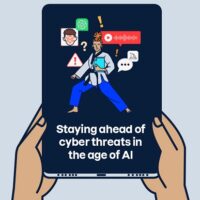 As the age of AI evolves, protecting your digital moments and devices will be more important than ever. TDS' Internet Security Suite makes it easy.
The 'age of artificial intelligence' makes good cybersecurity, like TDS' Internet Security Suite, more important than ever.
NFL RedZone brings you every touchdown from every game, every Sunday afternoon during the regular season and acts as the perfect Fantasy Football companion.
There are more than 1,000 Sept. 11 memorials in the United States, including at the three sites where terror unfolded on that tragic day.
Effective Oct. 1, 2023, the broadcaster of WJZY will change the following: Heroes & Icons will change to The Grio. The Grio will change to Antenna TV.
Broadcaster KSVI will be changing the programming on channel 29 in the TDS TV+ lineup from Bounce to The CW Network.
Effective Aug. 31, the Local Access (Public, Education and/or Government) channels will be changing locations for customers in Mooresville, North Carolina, and Stoughton, Sauk Prairie, and Verona, Wisconsin.
TDS TV+ and digital TV customers can experience all that nature has to offer from the comfort of their homes.

TDS Connect Blog
Learn more about how TDS can keep you connected in the home with Internet, TV, TDS Fiber, DVR and phone services and solutions.
Connect:
Stay connected with TDS Home for the latest news.