About Barclay Pollak
Barclay Pollak is an award winning journalist and proud to be a member of the Corporate Communications team at TDS Telecommunications Corp. (TDS®) in Madison, Wis. Barclay joined the team in April of 2013. Before that Barclay worked as an Anchor/ Reporter for the NBC affiliate in Madison. While at NBC-15 Barclay was recognized by several organizations for his contributions to the television news industry. They include the Wisconsin Broadcasters Association, the Radio Television Digital News Association (Edward R. Murrow Regional Award) and the Chicago/Midwest National Academy of Television Arts and Sciences (2012 Emmy Nominee). When he's not working Barclay enjoys cheering for all the sports teams in Wisconsin. Barclay's a University of Wisconsin-Madison alumnus and a huge fan of Badger athletics. Barclay is fascinated by the ever changing world of technology and spends a fair amount of his free time reading about the latest and greatest developments online. When Barclay's not learning about technology he's scouring the Internet in search of freeware. Barclay has an 8-year-old daughter and lives with his girlfriend of almost five years on Madison's southwest side.
G+
.
Author Archive | Barclay Pollak
November is synonymous with Thanksgiving so it's a good month to discuss giving back—and boy do Americans love to give back! TDS is no exception. All year long we do things to help in our communities in ways both big and small. Feel the love and please do share what you do!
What year was it? Aliens was the most popular feature film. "That's What Friends are For" by Dionne Warwick and Friends ruled the radio waves. Plus, The Cosby Show was the most watched program on TV. See if you can tell what year today's #TBT picture is from....
Time for another Community Connections where we share some of the good works and community giving our employees have been up to.
Employees from TDS Telecom, Baja Broadband, and OneNeck (BendBroadband employees we're sure you're busy too and we'll tell you how you can be featured in this segment at the end of this story)continue to make strong community connections through their good works! From helping out local food pantries to getting soaked for a good cause, employees across the enterprise are doing what they can to help others. Find out some of the great things being done...
Employees continue to donate their time and talents to their communities. Here are a few of the people who are making a difference.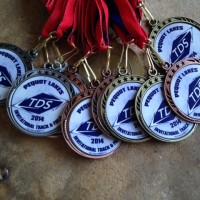 We're at it again! Here's a look at more of the good work TDS employees have been doing in the community (maybe even yours!)...
Employees from TDS Telecom and sister companies OneNeck IT Solutions and Baja Broadband do a lot to benefit their communities. Here's what some of the employees at the three companies have been up to....
TDS is stepping up to support one of the best children's hospitals in the country but, more help is needed and we can't do it alone. Blogger Barclay Pollak tells you how you can help and become a champion for kids.
Are you in the market for a new laptop or tablet? What about a desktop computer? If so, you're in luck! TDS has partnered with TigerDirect.com, one of the largest online electronics retailers, to offer you a big discount: 30 percent off your order plus free shipping! Learn how to take advantage of this special discount.
Being good citizens in our communities is an important Shared Value for TDS. Employees are encouraged to offer their support/time—but Erik Brown has taken it almost to another level. He has donated a week of his vacation time every year for 25 years to help run the Badger Boys State program. Find out what makes this program so special it keeps Erik coming back for more.

TDS Connect Blog
Learn more about how TDS can keep you connected in the home with Internet, TV, TDS Fiber, DVR and phone services and solutions.
Connect:
Stay connected with TDS Home for the latest news.